Service While You Wait!
While your car is being serviced, you can enjoy a comfortable & luxurious experience in our state of-the-art dealership lounge where we have a café with a wide variety of food & drink options, TVs for your entertainment, and today's top magazines to read. You can also visit our showroom floor to take a look at your next vehicle! Should you like to leave the facility but remain close to the dealership, the W&OD trail is just steps away from our dealership for your enjoyment!
Close by we have Dulles Town Center Mall & One Loudoun for shopping, several     restaurants, Regal Movie Theater, Top Golf and Redskins Park! 
Shuttle Service   Monday - Friday 8:00am - 5:30pm (last shuttle leaves dealership at 5:30pm, scheduled trips till 6:00pm) Saturday 9:00am - 3:30pm
·        Offered within 15 miles of dealership, providing round-trip service if needed.
·        Service to Metro & Dulles Airport as needed.
Enterprise Rental Car Program  As an added benefit we have a unique relationship with ENTERPRISE RENTAL CARS to provide BMW rentals to our customers. Now you can continue to enjoy the Sterling Motorcars experience when your needs call for a rental car.  This service is offered on a first come first serve basis. 
 A Sterling Exclusive.
Complimentary Refreshments  For those times when you have to wait, enjoy our complimentary refreshments located in the zentrum or visit the BMW Café located within BMW of Sterling.
A Sterling Exclusive.
Complimentary Car Wash and Flowers  There is something about riding in a clean car. Whenever you bring your car in for service, we not only make sure it's repaired correctly, but also provide a complimentary car wash and fresh flowers.  At Sterling Motorcars we believe a flower is worth a thousand words.
A Sterling Exclusive.
Airport Valet.  We offer the Airport Valet Program that will transport our customers from our dealership to the airport.  We will service our customer's car while they are out of town.  That way they are never without it when they need it.  We will even pick you up from the airport during business hours in the comfort of your own car.  
A Sterling Exclusive.
Free local Courtesy Shuttle.  Take advantage of our free local courtesy shuttle.  This shuttle will services an area within 10 miles radius of the dealership.  When your vehicle is ready, we'll bring you back. 
QMS Certified Dealer  QMS is a program adopted by the North American market from BMW's European Quality Management System.  The ultimate goal of this program is to create a system that eliminates unnecessary cost, increases flexibility of the business and achieves an ever-stronger customer focus.  This translates into a higher set of customer satisfaction standards.  Sterling Motorcars certification demonstrates a higher standard in quality, our pledge to deliver the best service possible and our determination to maintain the highest level of customer satisfaction.
A Sterling Exclusive.
Flatbed Deliveries Available  We have the ability to tow a client's vehicle and/or deliver it on a flatbed, ensuring it will be handled with the best care possible and with no added miles. 
A Sterling Exclusive.
Wireless Internet and Phone.  Free Internet Access, as well as complimentary phone service is available at our service waiting area.
Late Night and Early Bird Drop offs.  Although we have extended service hours, it may not always be convenient for our clients.  We offer late night and early bird service which allows our customers to make an appointment and leave the keys in one of our secure drop boxes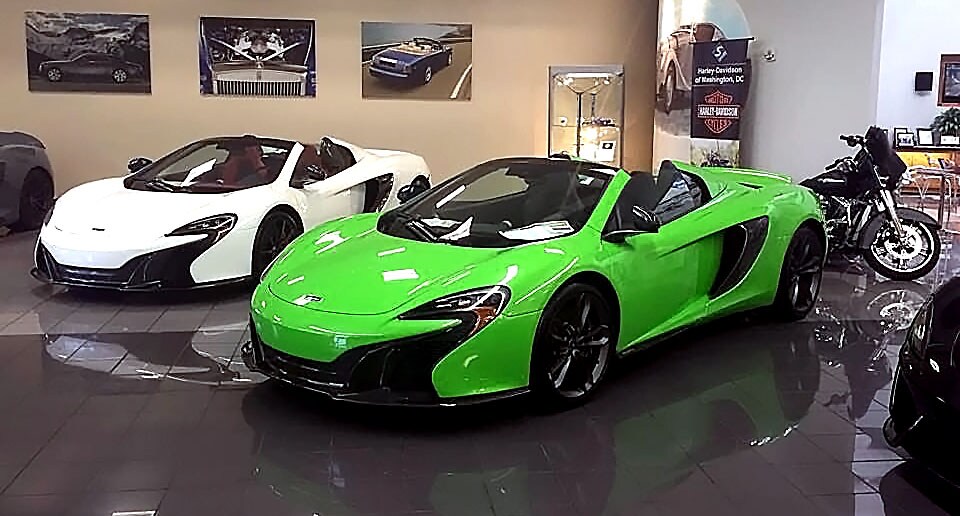 Courtesy Vehicles are offered under the following policy: 
·   A courtesy vehicle is only offered for repair services that are expected to take more than 2 hours. Loaners are offered to customers who have called in advance and scheduled their appointment. Enterprise Vehicles are offered to customers who haven't scheduled an appointment and also as a backup for when Loaners aren't available. If you drop your vehicle off before your scheduled appointment you will be offered an Enterprise vehicle instead of Loaner. Please allow a few extra minutes in your schedule to accommodate for the check in process. We cannot guarantee alternate transportation for same day appointments.
·        Due to insurance regulations, the drivers of courtesy vehicles must be 21 years of age.
·        The driver must present a valid driver's license, credit/debit card, and proof of insurance before operating the vehicle.
·        Only the person(s) named on the Loaner Agreement and their spouses are permitted to operate the Courtesy Vehicle.
·        Drivers named on the Loaner Agreement are responsible for all charges incurred against the vehicle during use, including tolls, tickets, fees, and penalties, damages to vehicle including tire and wheel damage, and any costs incurred by Sterling Motorcars. An administrative fee of $50.00 will be charged for processing these charges.
·        Sterling Motorcars only authorizes payment on Enterprise Rentals for 2 days unless authorized by a Service Manager.
·        Once notified that your service has been completed you have 24 hours to return the Courtesy Loaner Vehicle. If the car isn't returned within the 24 hour window a daily usage fee of $179 per day will be charged to the credit card on file.
·        A fee of $5.00 per gallon and a $5.00 surcharge will be charged to the driver who does not return the Courtesy Vehicle with the same level of fuel as when it was checked out.
·        Mileage is restricted to 125 miles per day. A mileage fee of $0.55 per mile will be charged to any customer who exceeds the daily mileage allowance.
·        All Courtesy Vehicles are NON-SMOKING vehicles. A detail fee of $299.95 will be charged to the driver who smokes in our vehicle.
·        Pets are not permitted in Courtesy Vehicles. A detail fee of $299.95 will be charged to the driver who transports their pet in our vehicle.
Courtesy Vehicles Return Policy: 
When returning the courtesy vehicle customers must do a final walk around with a loaner representative to verify any damage or detail needs along with verifying the fuel level of the vehicle. After the final walk around you will receive a final loaner agreement signed by both you and the representative that completed the check in. If there are any charges to be made due to damages, detail or gas fees that will be noted on the final signed agreement. Please allow a few extra minutes in the pickup process to accommodate for this process.